As a local independent charity, we are committed to listening to the voices of children and young people on the Island. Enshrined in our 2022-2025 strategy, is for more children and young people to have a say in the things that matter to them and for them to help shape the services they need. 
Through supporting the Youth Trust, you can be sure you are making a real difference to children and young people on the Isle of Wight in a way that matters to them.
Helping us financially – whether that's through fundraising or donating – is always welcome! You can donate to us today or set up regular monthly donations.
Other ways to make a donation...
Text IOWYT to 70490 to donate £10 or text IOWYT followed by your donation amount to 70470 to give that amount*
Send a cheque payable to the Isle of Wight Youth Trust to: Youth Trust House, 114 Pyle Street, Newport. Isle of Wight. PO30 1XA.
Call the fundraising team on 01983 529569 and we will be delighted to share our bank details so you can transfer money directly and we can personally thank you too.
* Texts will cost the donation amount plus one standard network rate message, and you'll be opting into hearing more from us.  If you would like to donate but don't wish to hear more from us, please text IOWYTNOINFO instead. Ensure you have the bill payer's permission.
There are a number of other ways to give. If you would like to chat to a member of our team please email
fundraising@iowyouthtrust.co.uk or call 01983 529569.
Other ways to support us...
There are so many fantastic fundraising challenges, events and activities you can do to raise funds for the Youth Trust either as an individual or as a team.
Whether you've got an idea, are already planning an event, need some resources, or just have a question we are here to help.
Contact fundraising@iowyouthtrust.co.uk 
Become a Youth Trust Trustee
Are you willing to commit some of your time, energy and experience to help us support young people on the Isle of Wight? Do you want to help improve their resilience, well-being and mental health to set them up for success in the future? Over the next two years we have six vacancies to fill on the Trustee Board. Join us and you'll be helping our skilled and enthusiastic people in their work, amplifying the voice of young islanders, and bringing much needed support to the parents and young people who rely on our services.
You can find out more about the role in the Trustee Recruitment Pack.
Isle of Wight Ultra Challenge 2024
Spinnaker Tower Abseil May 2024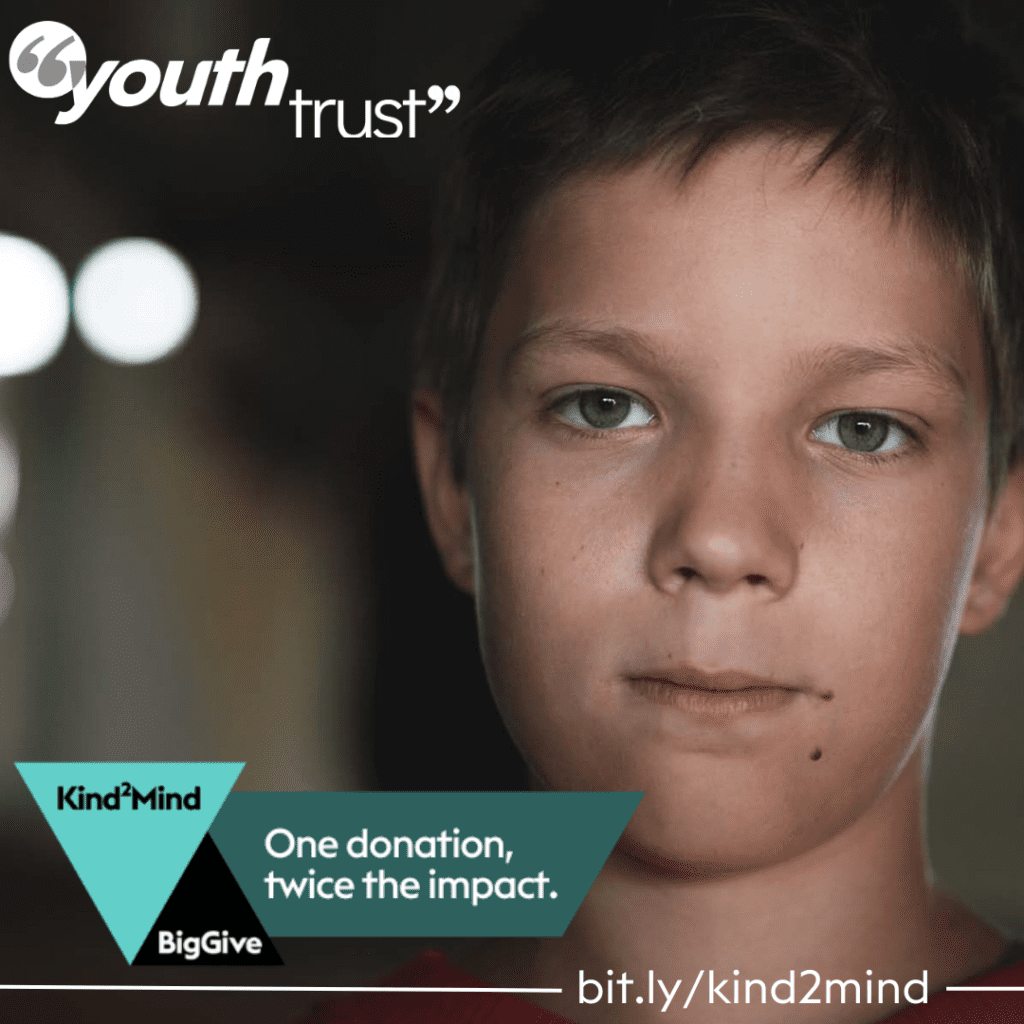 The Big Give Kind2Mind Fundraising Appeal
15th – 22nd May 2023
Every pound donated to Youth Trust via the Big Give Platform between the 15th – 22nd of May will be doubled!
Help us reach our £10,000 target which will enable us to provide each school on the island with a Wellbeing Toolkit. 
One donation, twice the impact. 
Brighten your day and #BanishtheBlues to support the Isle of Wight Trust 
Thursday 9th February 2023
We are asking the whole Island community to come together to help raise vital funds for the Youth Trust.  We need to try and change the odds so that fewer younger Islanders need our support.
NHS research now shows 1 in 6 children under 16, and 1 in 4 young people aged 17-25 need support with their mental health. That's between 5 and 8 children and young people in an average class of 30 and represents 5,965 (almost 20%) of children and young people aged 4-25 living on the Isle of Wight. 
We know that many people are struggling financially right now which is why we're asking people to donate £1 – or what they can. If 1 in 6 Islanders donate just £1, we can fund 1000 support calls or 325 counselling sessions, making a real difference…
In 2022 Emily King took on an epic three-day challenge – paddleboarding around the Island on day 1, cycling around it on day 2, and finally running a marathon across the Island on day 3. The King's Challenge!
Although not from the Island, Emily chose to raise funds for the Youth Trust whilst completing her challenge, as she is a passionate mental health champion after a vicious dog attack left her with PTSD and agoraphobia.
Emily found refuge in paddleboarding, "I finally had something that connected with me – it was mindful, it pushed the post-traumatic stress back from me and I was living in the moment". Since those first days on a board, she has become one of the UK's longest standing and successful paddle board athletes.
Emily raised over £3000 for the Youth Trust and her epic achievements were covered by the BBC and Heart Radio – raising vital awareness of the work of the Trust.
As a charity, we rely upon the generous support and donations provided by our funders, partners and sponsors. Relationships we build with organisations and businesses can make a significant impact to the mental health and wellbeing of thousands of Island children, young people and their families every year.
Over 6,000 shops and sites will now donate to us for FREE every time you use #easyfundraising to shop with them.  Just start your online shopping at EasyFundraising.org.uk, find the retailer you want to shop with, then shop as normal. The retailers then make a small donation to say "Thank you" – you can even download an app for your phone and computer that sends you a reminder every time you shop online!